:: Transit of Venus – An Auspicious Day! ::
while in Seminyak, Karen sent me this about the Transit of Venus. from
Planet Waves
, by Eric Francis.
Transit of Venus: Embracing the Solar Feminine 
Dear Friend and Reader:
"As the apple tree among the trees of the wood, so is my beloved among the sons. I sat down under his shadow with great delight, and his fruit was sweet to my taste." 

— Sulamitis, from the Song of Solomon
On June 5 (June 6 in some time zones) Venus and the Sun form a precise conjunction, called a transit of Venus. Venus and the Sun align about once a year — though this one is different due to the fact that Venus will not pass above or below the Sun but rather directly cross its path. This is called a transit of Venus. Considered one of the most rare predictable astronomical events, transits of Venus arrive in pairs separated by eight years; the pairs themselves are divided by more than a century.Events in astrology gain influence by being unusual — though this one will also be spectacular. If you can see the Sun during the event and use a special viewing filter, you will be able to watch Venus cross the disk of the Sun. (Beginning at 6:04 pm EDT, viewers in New York can watch until sunset.) We most recently experienced a transit of Venus in 2004. The June 5 event may be related to something that you experienced or a phase of your life that began eight years ago.The world will not experience another transit of Venus until 2117, 105 years from now. It's a bit ominous that, barring some life-extending genetic therapy, nobody who sees this one will be alive to see the next one.Speaking of omens, this kind of rare event indicates a check-in point with the state of humanity. It's the single most distinct astrology element of 2012, a year that may break the record for how much prophecy has hung on its back. Yet we do stand in a moment when one logical use of celestial divination would be trying to figure out what's going to happen to civilization on our planet. By any objective measure, we are in trouble. It's not that our national and global problems don't have solutions. It's not that there are insufficient resources. The crisis involves lack of leadership and ethics. Anyone trying for a solution must outsmart what amounts to a cabal of heavily armed thieves who are holding the planet hostage.
We face numerous hotly polarized situations of 'us and them', many of which come from a prevailing condition of inner division that has a grip on the human psyche. Which brings me to why it's so excellent that this event is happening in Gemini. I believe that the political mess we face is a reflection of the deeper elements of our consciousness. Many of these are based on what I will broadly term gender issues.
In recent years, the political machinery has been using gender and sexual orientation — and sex in general — as some of its most effective wedges. Yet with the atmosphere heating up, with fracking consuming the United States and headed to Europe, with the economy in an extremely fragile state and our genetic code under assault from supertoxins-for-profit, worrying about who has the right to marry seems like a distraction.
Trying to blast reproductive rights back to the 1950s (as evidenced by the movement to repeal not just Roe v. Wade, which preserves the right to abortion, and also Griswold v. Connecticut, which preserves the right to contraception) is often described as throwing red meat to the conservative base. It's typically analyzed as a political ploy that skews the discussion away from real problems and also preserves the jobs of politicians.
We all know there's a severe imbalance on the planet, and there are many spiritual theories going around as to why that might be. Instead of treating the sex and gender issue as a symptom, I would propose that it might be a lot closer to the cause. People in political leadership are not known for their powers of deep introspection or their sexual integrity. Often they are in conflict and project that conflict outward as attack, attempted control and manipulation of people's private sexual lives. People not in positions of public trust drive one another insane with this stuff as well.
This inner turmoil manifests many other ways, including lack of sensitivity for the Earth (the consequence of which is often accurately described as rape). Nearly all of the most potent toxins of industry attack the female reproductive system first, though we're all soaking in an ocean of hormone-disruptive chemicals and all feeling the effects to some degree.
The transit of Venus presents us with a compelling metaphor and also a palpable moment of transition. It's a junction (literally, a conjunction) where we can make a conscious choice. Think of this as starting within, where most (some would say all) of our conflict originates. Think of it as an inner reunion between the masculine and feminine elements of ourselves, appropriately happening in the sign of the interplay of opposites — Gemini.
Venus is a feminine symbol and the Sun a masculine one. When Venus intersects with the disk of the Sun, it's a little like the Sun is being penetrated by potent feminine energy. Both will change in the process. My astrology colleague Adam Gainsburg (Soulsign.com) has been describing this as the emergence of what he calls the solar feminine.
"Despite the dominance of solar gods at the root of western civilization, the metaphor of light is actually more akin to the feminine principle than to the masculine. Light shines, radiates, illuminates. But from our viewpoint on Earth, the Sun also sets and takes the light with it each evening. This ebb and flow of light is precisely what the feminine is: the flow, the dance, the ever-changing pattern of light into dark and back again."
With the transit of Venus, he said, "What becomes illuminated is how your feminine aspect self-radiates into the world — what you uniquely have to give to the improvement of our planet." He adds, "The solar feminine is, literally, our 'light body'. She's the one inside each of us who leaves nothing uncovered, nothing unfelt. We experience the full range of our actual feelings as her body." Yet the Sun is expressive, so this is about being moved to take creative action.
"The Solar feminine is a confrontational idea for many religions because her very existence fundamentally challenges the fragmentary, long-held assumption of masculine spiritual superiority. By re-acknowledging her, we begin to re-empower her. The solar feminine shines not just through the success and expression of women, but through the power of a man's emotions received in his heart."
I think what Adam may be describing is a process of men becoming more receptive and women becoming more expressive. That would help balance things out — and at least it gives us a clear idea of what to reach for. While there's been plenty of ways in which our culture has slipped backwards in gender relations (especially when you factor in politicians), I believe there is a gradual balancing out of masculine and feminine energies within many individuals and in many relationships. With this eclipse-like event, we have an opportunity to deepen and accelerate that process.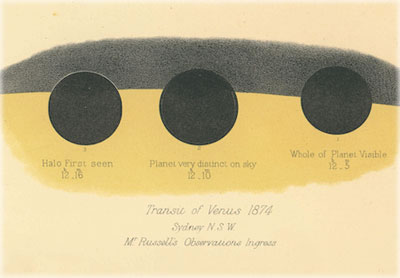 Illustration of the 1874 transit of Venus at the point of ingress, seen at Sydney, New South Wales, and drawn by H. C. Russells.
The story of transits of Venus over the past few centuries gives us another metaphor to work with. Last year a book was published, called Transit of Venus: 1631 to the Present, by Nick Lomb (The Experiment, paperback, $24.95). Lomb describes the progression of how each successive event was seen by human eyes — and some of the implications. The following history is drawn from Lomb's research.
No one is known to have seen the 1631 Venus transit — it was night in Europe. Johannes Kepler, who figured out the 1631 event, missed that there would be a second transit of Venus eight years later. Two people are known to have seen the 1639 transit: Jeremiah Horrocks and his friend William Crabtree, viewing separately from England. Amazingly, Horrocks figured out there would likely be a second Venus transit that century only about one month before it occurred. He began observing the day before his prediction indicated, just in case he had made an error in his calculations.
CLICK TO READ THE FULL ARTICLE
:: 6.5.12 or 5.6.12, Depending on Where You Are ::
Another Sweet Sleep
Get Out my Trekking Pants
A Half-Hour of Yoga that Turns into a Full One
A Fully Delicious Breakfast – Literally Breaking the Fast

Scrambled Eggs, Marinated Tomatoes, Veggies, Toast, Best Fruit Salad that i have Ever had in my Entire Life

Selk and Ajay are Joining! G'Day, Gede! (Our Happy Guide) Mount Batukaru Temple Stories of Siwo Nyoman (forgive me gods for the possible misspelling, as Gede mentioned these are mostly legends passed down through oral tradition). Siwo Nyoman is the Bear Man God who Lives on the Mountain and Appears to Scare those who do Bad Things. (We Make Offerings.) Nature Protects Itself Thinking for the Future Gede: "Bali people are always planning everything carefully." Planning for Goodness. Tasting the Fruits of the Jungle The Day of Venus Passing over the Sun – Male and Female Energy in Union, Selk and Ajay's Anniversary – an Auspicious Day! A Musical Mountain Rice Paddy Parade Over Stones Through Village Old Village Woman asks Gede if I am a Boy or a Girl. Oddly, this Brings me Great Happiness. The Duality in me in Apparent. Hot Stone Massage Surprise Traditional Dance Performance from Local Balinese Girls Gede and I Sit Out Back Smoking Cigarettes and Sharing Stories – he Learns of the Lobsterbird, I Hear of the Balinese Songbird who visits his Home – the Betjitja

CLICK TO READ THE FULL ARTICLE